How to Display Your Sunglasses in Different Ways
Nowadays in a more competitive market, to be innovative and creative to display your products is vital important for the vender . This is especially true when it comes to sunglasses, because retailers and consumers alike, both ordinary and uninteresting as a standard racks working solar Try these tactics to create an arresting, attention, grabbing way to sell more sunglasses.
Choose the best location
It is advisable for you to consider the basic strategy that you can apply when displaying your sunglasses that will facilitate the purchase of your customer while at the first sight of your product. According to the research of most customers, there is an important area for the display of sunglasses on the shelves,that is,near or at the checkout counters, because customers can quickly and easily try them out and then add them to their purchase. This also highlights the importance of having a mirror next to the sunglasses, so to show that customers can easily try on glasses and see how they look.
Imagine the Future
Creating inside displays that are both sleek and futuristic. It is a strategy which get the inspiration by Aigner architecture, which was developed store in Munich, Germany. Consider painting your shop in a bare, white space --- but do not add to much excessive bright lights. Using the floating screens and make the sunglasses appear on glass or plastic tubes from the ceiling and walls. Pipes should resemble large bullets that contain one or two pairs of glasses. Each tube should be close to eye level of the average man or woman so that customers do not have to strain to look at the screens. Besides, display shelves recessed inside the walls as another display option in this modern style.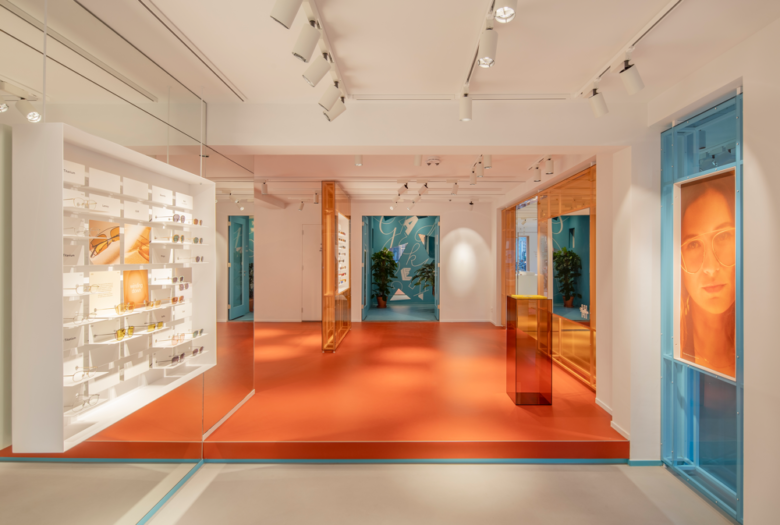 Target class Leisure
If you are selling expensive designer sunglasses, in order to market them affluent consumers through photography. Michelle Lindsay describes this process in his book "The promotion of products and services", giving the example of how advertisers use rich-looking beautiful people to sell more expensive products. If your budget allows, organize photo-shoot with professional models wearing sunglasses on the spot in areas where wealthy consumers spend time in the sun. Lindsay says it often shows them alive "desirable" way of life, such as the beaches of the Riviera, the elite club, or in the gardens of the multi-million dollar estate. Enlarge photos for display on their windows and slice slits in the appropriate places so that you can slide right sunglasses on top of the one-dimensional one in the picture.
For more striking and comical effect, you can add more poster which related to the exquisite sunglasses and promoted by celebrities to your sunglasses display showcase,and don't forget to invite the customer to try the latest brand new sunglasses and use the proper store design to increase your sale.